Congressional Report

Dear friends,

Please take a moment to read my latest update from Washington and Texas' 28th Congressional District.

Below you will find information regarding my recent meetings with Governor-Elect Francisco Domínguez of the Mexican state of Querétaro, Starr County Judge Eloy Vera and the Starr County Memorial Hospital Board in Rio Grande City, as well as updates from my district, constituent and intern spotlights and some tips from the U.S. Department of Health and Human Services.

You can stay connected by signing up for my weekly email here.

Meeting with Quer
é
taro Governor-Elect Francisco Domínguez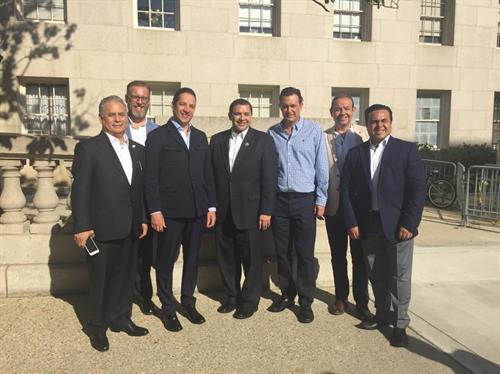 On September 7, I met with Querétaro Governor-Elect Francisco Domínguez and members of his team, Tamaulipas State Rep. José Salvador Rosas Quintanilla and Mexican entrepreneurs in D.C. to discuss issues of homeland security, urban development, transportation and business opportunities between the U.S. and the state of Querétaro in Mexico.


Meeting with Starr County Judge Eloy Vera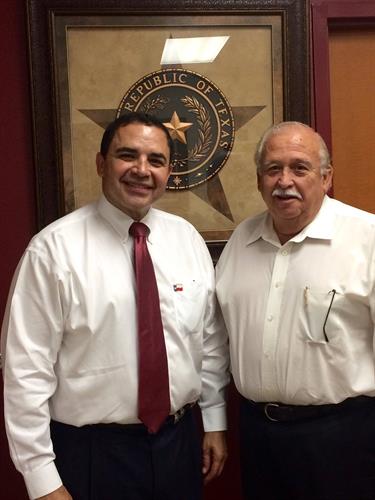 On September 3, I met with Starr County Judge Eloy Vera to discuss funding for public safety and jobs in Starr County.
Visiting Starr County Memorial Hospital in Rio Grande City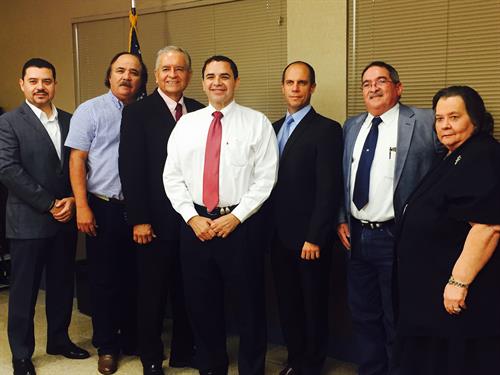 On September 3, I met with the Starr County Memorial Hospital staff and hospital board in Rio Grande City to discuss the Affordable Care Act and other important issues concerning health care.


Meeting with U.S.C.I.S. in Laredo


On September 3, my constituent services representative in Laredo, Sylvia Segovia, met with Ana Elizondo and Juanita G. Reyes from U.S. Citizenship and Immigration Services in San Antonio to discuss updates in immigration cases and learn about campaigns to stop human trafficking.


Meeting with Mission City Officials


My

southern district outreach coordinator, Nichole Hernandez, recently met with Mission Police Chief Robert Dominguez, Gloria Salazar from Mission Crime Stoppers and Mission City Manager Martin Garza to discuss security efforts and projects in the area.

Constituent Spotlight - Doroteo Garza


Doroteo Garza came into my Laredo office in April 2014 seeking assistance with a complicated issue with the IRS. My office was able to inquire on his behalf to help him clear his debt.



Intern Spotlight:
Austin Rittenberry - Washington, D.C. Office


Austin Rittenberry is a senior majoring in political science and minoring in economics at Texas Tech University. A Lubbock native, he enjoys politics and foreign relations and plans to pursue an internship at the Texas Capitol in Austin.




Brenda Gonzalez - Laredo District Office




Laredoan Brenda Gonzalez is a senior at Texas A&M International University (TAMIU), where she is pursuing a double major in history and political science. She chose to intern with my office to gain experience within the federal government and plans on pursuing her master's degree at TAMIU.


Read more about Austin and Brenda and other interns in my office here.

Find out how to apply for an internship with my office either in the district or in D.C. here.

TX28 Tips
U.S. Department of Health & Human Services - Step it Up! Help Make Our Communities Walkable
This video from the U.S. Department of Health and Human Services (HHS) illustrates the Surgeon General's Call to Action to promote walking and walkable communities.



Sincerely,
Henry Cuellar

The House is in session next week.

CONNECT



Rep. Cuellar
In the News
9/10/15, C-SPAN Washington Journal: Rep. Cuellar Speaks on Iran, Immigration and Energy
9/8/15, Texas Tribune: The Unlikely Friendships for Texas' Congressional Delegation
9/8/15, KGNS: Congressman Cuellar announces grants to fight substance abuse
9/8/15, El Periodico USA: Congresista rifará boletos para asistir a la visita de su santidad el Papa Francisco en Washington (Congressman to raffle tickets to see His Holiness Pope Francis' Visit in Washington)
9/8/15, Security Debrief: Mexican Energy Reform is Gateway to U.S. Security
9/8/15, El Manana de Reynosa: Cuéllar invita a ver al Papa (Cuellar invites to see Pope)
9/7/15, Laredo Morning Times: US-Mexico relationship vital
9/7/15, Tyler Morning Telegraph: Actions on exports, earthquakes mark week
9/7/15, McAllen Monitor: LETTERS: On helping businesses with international trade and healthier school lunches
9/7/15, SDP Noticias: Gobernador electo de Querétaro realiza gira por EU (Queretaro Governor Elect tours U.S.)
9/4/15, KGBT: Cuellar announces drawing for Pope Francis' first U.S. visit
9/3/15, Laredo Morning Times: Henry Cuellar to distribute tickets to see pope's address in D.C.
9/3/15, Bakken: Texas Democrat confident House will pass bill on oil exports
9/3/15, KNVO: Fórum económico en el condado Starr (Economic forum in Starr County)
9/3/15, McAllen Monitor: Congressman announces contest to see the pope
9/3/15, Texas Tribune: Texans to have starring role in congressional showdowns
9/2/15, Texas Tribune: Cuellar: House will pass bill lifting crude export ban
Neighborhood Office Hours


Tuesday, September 15th
Campbellton/Callihan
(Call for appointment)
9:00am - 10:00am

Christine City Office
102 S. 10th St.
1:30pm - 2:30pm
Christine, TX

McMullen County Courthouse, Commissioners Court Room
SH 16 at Elm Street
10:30am - 11:30am
Tilden, TX

Windcrest City Hall
8601 Midcrown
2:30pm - 3:30pm
Windcrest, TX

Adkins
(call for appointment)
10:30am - 11:30am
Adkins, TX

Bruni Community Center
303 12th Street
9:00am - 10:00am
Bruni, TX

Mirando City Quad City Community Center
917 N. Main Street
12:30pm - 1:30pm
Mirando, TX

Oilton Elementary School Library
300 DeSpain Street
10:30am - 11:30am
Oilton, TX

Thursday, Sept. 17th

Converse City Hall
403 Seguin
9:00am - 10:00am
Converse, TX

China Grove
(call for appointment)
10:30am - 11:30am
China Grove, TX

Open to San Antonio

Have a question about neighborhood office hours? Call my toll free number at 877-780-0028