Congressional Report

Dear friends,

Please take a moment to read my latest update from Washington and Texas' 28th Congressional District.

Labor Day is a celebration of the grand contributions American workers have made to the U.S. economy and to our nation across the centuries. Officially established as a federal holiday in 1894, Labor Day is a time for relaxation but also a time to stop and reflect on the strength and prosperity that the American worker has engendered.

Below you will find information regarding the "Every Kid in a Park" program by the Obama Administration, updates from my district including events in Floresville, Laredo and McAllen, a constituent spotlight, intern spotlights from both Washington, D.C., and the district, and tips about retirement from the U.S. Department of Labor.

You can stay connected by signing up for my weekly email here.

Administration Launches 'Every Kid in a Park' Pass to Access Federal Lands and Waters Nationwide

The Obama Administration on Tuesday formally launched the
new Every Kid in a Park program.

Beginning this month, fourth graders nationwide can visit the new Every Kid in a Park website to obtain a pass that provides free access to students and their families to all federally-managed lands and waters – including national parks, forests, wildlife refuges and marine sanctuaries. The pass is valid for the 2015-2016 school year and grants free entry to fourth graders and three accompanying adults (or an entire car for drive-in parks) at more than 2,000 federally-managed sites.

Visit www.EveryKidInAPark.com to get your free pass now.



Renaming the Floresville Post Office in Honor of Veterans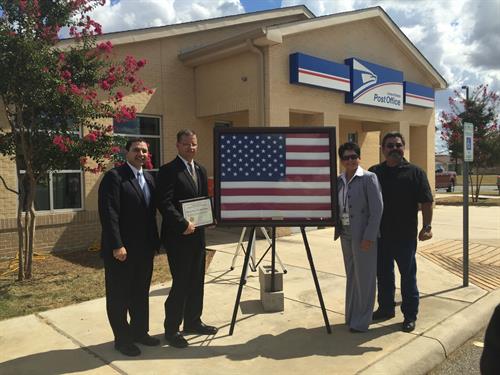 On September 2, I attended a dedication ceremony with officials from the United States Postal Service, local veterans groups and members in the community to officially rename the Floresville Post Office as the "Floresville Veterans Post Office Building," in honor of the sacrifices made by veterans everywhere. In June of this year, I announced the successful passage of H.R. 891, a bill I authored to rename the post office in Floresville. The bill successfully passed the House and Senate and, in July, President Obama signed H.R. 891 into law, officially changing the name of the post office in Floresville. Click here to read more.
Speaking to High School Students on the Importance of Studying STEM Fields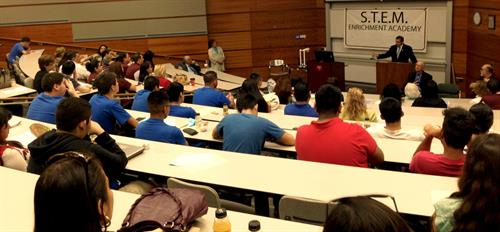 On August 29, I spoke to a group of approximately 100 high school students and their parents regarding the high demand for students studying science, technology, engineering and mathematics (STEM) at an event at Texas A&M International University (TAMIU) in Laredo. I helped to secure a three-year federal funding grant of approximately $750,000 for TAMIU's Minority Science and Engineering Improvement Program (MSEIP) in 2014, which aims to increase the participation of underrepresented minorities at Texas A&M International University in science and engineering careers. Click here to read more.

Meeting with City of Laredo to Announce New Trade Agreement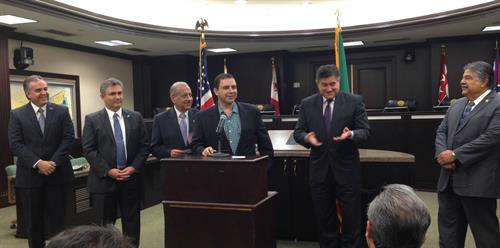 On August 31, I met with officials from the City of Laredo and representatives from the Mexican trade organization COMCE to announce a new agreement that will help Laredo maintain its strong role as a leader in international trade. I am pictured above with COMCE members, State Representative Richard P. Raymond, and Laredo City Manager Jesus Olivares during a press conference at Laredo City Hall.


Inauguration of El Salvador, Guatemala, Honduras and Mexico Consulates in the Rio Grande Valley
On August 27, my southern district outreach coordinator, Nichole Hernandez, met with McAllen Mayor Jim Darling, community members and representatives from the El Salvador, Guatemala, Honduras and Mexico Consulates to discuss immigration issues during the Grand Opening of "Consulate Row" in McAllen.

Constituent Spotlight - Anna Rodriguez


Anna Rodriguez (left) came into my Laredo office June 30 seeking replacement of her naturalization certificate as proof of U.S. citizen birth abroad. All identifying documents had been previously lost. My constituent services representative, Sylvia Segovia, (right), helped Ms. Rodriguez with this issue. On August 31, Rodriguez made an office visit to show that she had received her certificate of citizenship from the United States Customs and Immigration Services.



Intern Spotlight:
Arlene Amieva - Washington, D.C. Office


Arlene Amieva, of Laredo, is a college senior at Stanford University, where she is studying Human Biology with an area of concentration in Nutrition, Healthcare and Law

Arlene previously interned in a district office and wanted to gain further experience interning at the Capitol. She plans to finish college and apply to law school.




Osvaldo Guzman - Laredo District Office


Osvaldo is born and raised in Laredo and is currently a junior at Texas A&M International University, where he is majoring in Business Administration with a focus in management.

He recently completed a separate internship in Washington, D.C., and wanted to intern back in his hometown in order to gain a better understanding of constituent cases as well as knowledge on the topics such as immigration reforms, Social Security, and local and federal government collaboration.

Read more about Arlene and Osvaldo and other interns in my office here.

Find out how to apply for an internship with my office either in the district or in D.C. here.

TX28 Tips
U.S. Dept. of Labor - White Board Explainer: Your Retirement Protections
Retirement savings are entitled to protection under the law, but those rules don't apply to every savings plan. With 401(k)s and IRAs, workers are more responsible than ever for making important investment decisions. That means investors are increasingly reliant on the advice they receive. Ideally, your adviser will have your best interest at heart – but that's not always the case. This video from the United States Department of Labor shows you good practices for planning your retirement projections.



Sincerely,
Henry Cuellar

The House is in session next week.

CONNECT



Rep. Cuellar
In the News
9/2/15, Texas Tribune: Cuellar: House Will Pass Bill Lifting Crude Export Ban
9/2/15, Laredo Morning Times: Sewer treatment plant planned for Anzon site
9/1/15, El Periodico USA: Orientan a pequeños negocios sobre seguros médicos (Guidance is given to small businesses about health insurances)
8/31/15, Texas Border Business: National Retail Federation names Congressman Cuellar as one of their "Heroes of Main Street"
8/31/15, KGNS: Henry Cuellar: Anzon site has been cleaned
8/29/15, McAllen Monitor: Texans in Congress again target oil export ban
8/29/15, Laredo Morning Times: Laredo veteran receives Purple Heart award
8/29/15, Laredo Morning Times: Vietnam Veteran
8/29/15, Luis Valtierra: Henry Cuellar entrega premios Corazón Púrpura a veteranos de Laredo (Henry Cuellar gives Purple Heart to Laredo Veteran)
Neighborhood Office Hours


Tuesday, September 8th
Elmendorf City Hall
203 Bexar Ave
9:30am - 10:00am
Elmendorf, TX

Floresville City Hall
1120 D Street
10:30am - 12:00pm
Floresville, TX

La Salle County Offices
(every other month)
Court House Square
1:00pm - 2:30pm
Cotulla, TX

Encinal City Hall
107 N. Tejas
3:00pm - 4:00pm
Encinal, TX

City Hall Conf. Room
2 1/2 Miles, South
Farm Rd. 2360
8:00am - 9:00am
La Grulla, TX

City Hall
4851 East Hwy 83
1:30pm - 2:30pm
Escobares, TX

Rio Grande City, City Hall
101 Washington Street
10:00am - 11:30am
Rio Grande City, TX

Roma Community Center
502 6th Street
3:00pm - 4:00pm
Roma, TX

Thursday, September 10th


St. Hedwig City Hall
13065 Fm 1346
9:00am - 10:00am
St. Hedwig, TX

La Vernia City Hall
102 E. Chihuahua
1:00pm - 2:00pm
La Vernia, TX

Sutherland Springs
(call for appointment)
10:30am - 11:30am
Sutherland Springs, TX

El Cenizo City Hall
507 Cadena St.
9:30am - 10:30am
El Cenizo, TX

Rio Bravo City Hall
1701 Centeno Ln.
11:00am - 12:00pm
Rio Bravo, TX

Starr County Warehouse Bldg. Pct. 4
FM 755 (La Gloria)
10:00am - 11:00am
San Isidro, TX

Starr County Self Help Center
10 Mayorga Street
11:30am - 12:30pm
Rio Grande City, TX
(La Casita)
Have a question about neighborhood office hours? Call my toll free number at 877-780-0028